Our holiday village is 15km away for the city of Sarlat, 12km from the Lascaux Cave and 14km from the Eyzies village.
In order to preserve everyone's tranquility, it is a pedestrian park: vehicles must be parked on the parking lot.
The reception is only opened on Saturdays from 3 p.m. to 6:30 p.m. in July and August.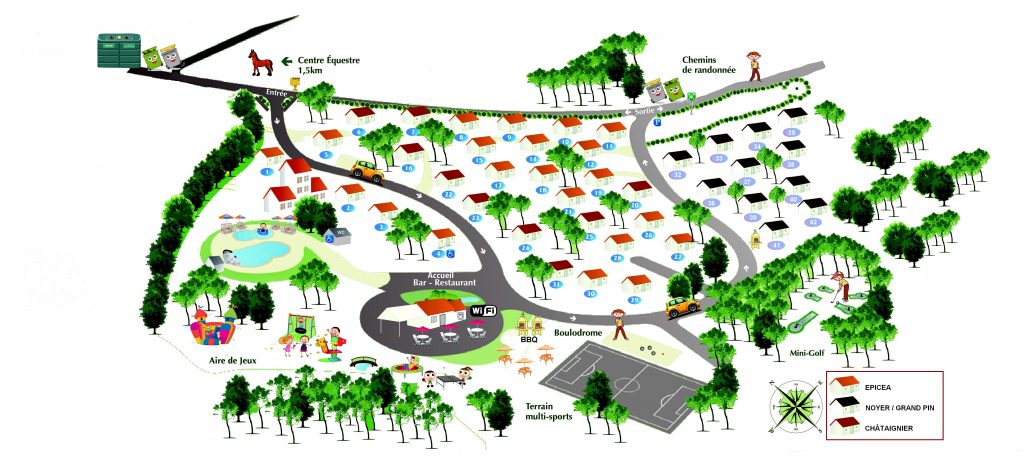 Services
In order to offer you as much comfort as possible, the Domaine des Grands Pins proposes the following services :
Free Wi-Fi (at the bar)
Snack:
opened  dinnertime (in high season) Closed every Saturday at lunchtime.
Public barbecues
Baguette and pastries can be delivered directly on you terrace (every Sunday morning off-season and every morning in high season)
A picnic if you want to eat outside
Board games can be lent
Library
Rental of a TV: 40€/ per week
Cleaning: 80€ / per chalet
Rental of bed sheets: bed sheets 13€ for queen size, 11€ for single bed
Rental of towels: 6€ / per person
For babies:
– Bed 20€ / per stay
– High chair: 10€ / per stay
Washing machine 8kg (4€), detergent (washing powder) 0.50€
Additional vehicle: 4€ / per day or 20€ / per week
Animal: 5€/ per day or 25€ per week
Visitors : Following our acceptance, it will be necessary to pay for additional vehicles 4€ / per day. However, visitors will not be allowed to use the infrastructures or stay overnight.
Activities and entertainment
You can organize your stay around a variety of activities and entertainment on site.