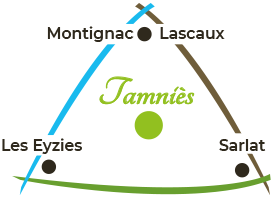 Welcome to the Domaine des Grands Pins
Situated at the heart of the Black Perigord in Dordogne, our holiday village "Le Domaine des Grands Pins", in the city of Tamnies, welcomes you in a pedestrian park of more than 9 hectares. Our holiday village is placed in the middle the city of Sarlat and its medieval city center, the village of Montignac and the Lascaux Cave, as well as the village of the Eyzies with its troglodyte architecture. You can also find many UNESCO World Heritage Sites around you. All of these sites are less than 15 kilometers (9 miles USA) away.
Our residential park is vast and calm. Its peacefulness will allow you get some rest and enjoy some good and typical French food at the same time.
Our rolling holiday village offers you the possibility to rent a chalet and lodge in Dordogne. The chalets are suitable for 1 person to 6 people. They offer you simple or sophisticated comfort (with air conditioning). Each chalet has a large space, up to 200m2…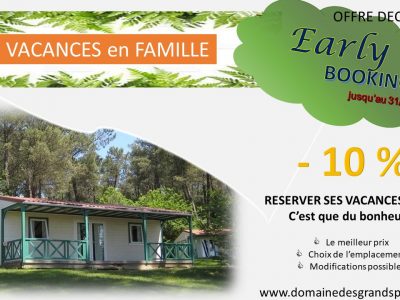 You want to discover Périgord during your next holidays. We invite you to book your chalet in a peaceful and […]
Read more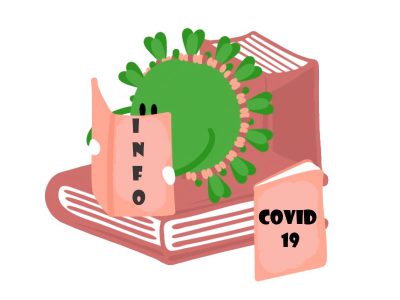 Dear guests For the past 2 years we have been living a complex and difficult sanitary crisis due to the […]
Read more
Discover our chalets
You can only rent a chalet the "Domaine des Grands Pins".
You can rent 7 different types of chalets: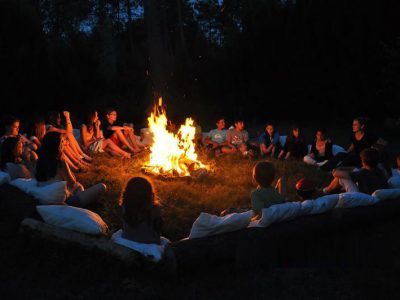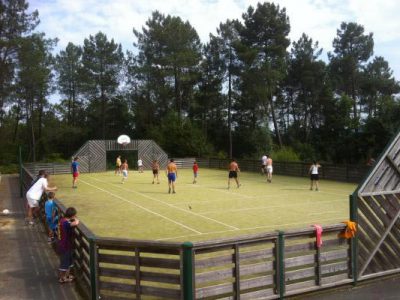 Activities for
children and adults
You can find multiple playgrounds in the park. During summer, our staff organizes daily family activities (sports competitions, group activities, parties…)
You can also find many other activities around our holiday village.
Groups and events
You have something to celebrate? You are coming with a group or with your family? To celebrate your wedding in Dordogne or for other events, the Domaine des Grands Pins is there for you and takes care of everything!
Holidays without promiscuity in the Dordogne
You will be able to entertain yourself with our equipment:
Heated swimming pool opened as soon as our village is opened, free minigolf, a playground for children with a trampoline and an inflatable structure, sports pitch, table tennis, boules pitch. We also offer a space dedicated to teenagers with a few hammocks.
A few activities adapted to all age can be done during the "high summer season": orienteering, lotto, sports competitions, soccer (football), hiking tours, visits of geese feeding farms, friendly evenings…
It will be with great pleasure that we will accompany you during your rest but also during your events such as weddings, family or professional gatherings. Your stay at the Domaine des Grands Pins will take you back to prehistoric times in Dordogne (in Black Perigord) 9 of the most beautiful French villages can be found in this region.
You will be surprised and you will travel through the Dordogne Valley and its rivers: the Vézère and the Dordogne.
While kayaking or canoeing, you will be astonished by the different landscapes but also by our Middle Ages castles (Béynac, Castelnaud la Chapelle, Josephine Baker's castle Les Milandes…)
Our chalets are situated in a natural, peaceful and pleasant environment.
In the country of gastronomy, you will be able to try our duck or geese foie gras. During your walks, you will be able to pick out walnuts or chestnuts. Do not forget to learn about the cultivation of boletus mushrooms and truffles (depending on the season)
Take a pause at the Domaine des Grands Pins and enjoy our heated swimming pool as well as our two fun children's pools.
Our peaceful and natural place next to the city of Sarlat la Cadéna will make your holidays unforgettable. Our chalets provide you a panoramic terrace with a great view on the Beune Valley.
Our "comfort" range of chalets will offer you pleasures and serenity:
– the Châtaignier confort chalets are perfect for large families
– the Epicéa confort chalets are perfect for couples or groups of friends with its cozy and welcoming atmosphere
– the Noyer grand confort offers you a great experience with very luminous and vast chalets.
All of these chalets have air conditioning, a television, a large fridge and freezer, a bathroom with separated toilets, deckchairs on the terrace. Bed sheets are provided at your arrival. The Noyer grand confort chalet has a dishwasher!
For those who are looking for more "rustic" holidays, our Châtaignier, Epicéa and Noyer chalets also exist in the classic version, which will not impact on your holidays.