Discover the Padirac Chasm
6 December 2017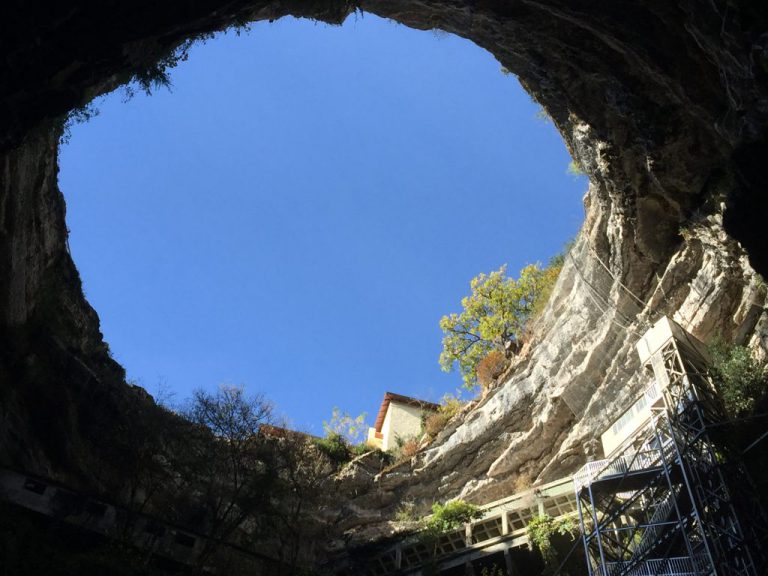 It is an enormous and natural 75-metre, 33-metre wide chasm, with a river running 103-metre underground.
Even though the chasm was created at an undetermined point in time it is known that the sinkhole existed in the 3rd century.
It was discovered by the famous French cave explorer Edouard Martel who said: "The feeling you get at the bottom of the Chasm is fabulous: it is as if you were at the bottom of a gigantic telescope whose lense is a round piece of blue sky".
The first visits started in November 1898, before the official inauguration on April 10th 1899. As early as 1900 electrical lighting was installed and since the 1930s access to the underground river is by lift and the rest of the visit on foot or by boat.
Today, Padirac is the most frequently visited underground tourism facility in France, with around 40,000 people per year who visit this natural paradise. The Padirac chasm triggered the era of tourism in what is nowadays known as the National Regional Park of the Causses du Quercy. The visit takes you through erie caves, the "Lac de la pluie" (the rain river), the "grande Pendeloque" (the giant stalactite) and many more marvels. The subterranean river is a tributary of the Dordogne river and its main resurgence is the Saint Georges fountain in Montvalent.
One hour away from the Padirac Chasm, the Domaine des Grands Pins welcomes you in the heart of a 9 ha pine tree forest. Our 32 sq.m Chalets Grands Pins offer a 16 sq.m covered terrace, sleep 5 (supplementary baby cot on demand) and are situated on a big plot of land. They are equipped so that you can spend your holiday in a cozy nest while you children enjoy our park, animations and the touristic wealth of Dordogne.