Fishing pond in Dordogne (carp, pike, black-bass fish, sturgeon)
28 February 2016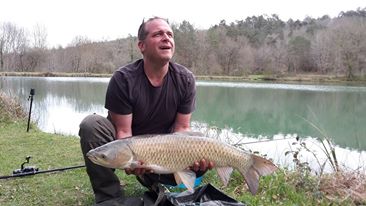 The Tamniès fishing pond
This fishing pond in Dordogne originated from a land consolidation in 1968 when the Tamniès city council required that each landowner donate 1% of its land to create an artificial lake and a communal irrigation network for farmers. Then, in the 80s, the city counsellors decided to adapt the 5ha lake nestled in greenery for tourism. Little by little the pond has been adapted for swimming and fishing for trout, carp, pike, black bass fish and sturgeon.
It has been awarded a Blue Flag Label since 2011
The Blue Flag Label guarantees the quality of bathing water and site management. It also promotes education to the protection of the environment and to the management of waste, water and natural resources.
It features a 4,500 sq.m fine sand beach, a children's play area, outdoors furniture, a pontoon, a refreshment bar (end of June to end of August), sanitary facilities and a large parking area. Swimming is supervised from end of June to end of August.